Quote of the day ....



At some ideas you stand perplexed, especially at the sight of human sins, uncertain whether to combat it by force or by human love. Always decide, "I will combat it with human love." If you make up your mind about that once and for all, you can conquer the whole world. Loving humility is a terrible force; it is the strongest of all things and there is nothing like it.


- Dostoyevsky - The Brothers Karamazov
The above has nothing to do with our bae-ziness :-) well maybe it does, 'cause you know, I have a passion for anything pertains wisdom, so just feel compelled to share something I feel deeply tugged in my heart. I just learned this passage of Dostoyevsky in last Sunday's Mass. Since I have a habbit of linking anything I encountered in my life with our BYJ, I was thinking what this has to do with him, and without much effort, I found it! Here! - don't you find our prince would always choose peaceful, human love to deal with the difficult situations in his life? Don't you think that "loving humility" is best suited to describe his attitude to his fans, and that "loving humility" of his is his "key feature" that attracted all of us? I do! And I believe that this is why his humbleness carries so much power and he is well on his way to conqure the world, ok, if it is not the whole world of this earth, it is the whole world of me.
I assume Jaime has already posted her Manet V on Quilt. I have been so busy lately that I rarely got time to check out the bae-land. Thank goodness there is still
bb
as my portal (thank you bb for your persistent work), and Jaime lovingly passing her writings to me. Thank you Thank you Thank you Jaime!
Oh, one more thing, since this is my blog, think it would be ok to share my personal dream (is there such thing as non-personal dream?) I had this morning (must be in the morning, for I still remember it) - Met a tall, good sized, good figured Caucasian woman at a store, (a bookstore?) she wore a light blue dress, was holding a magazine, presummably a magazine to do with BYJ, when she met me, (apparently we did not know each other before), somehow this lady grabbed me and started to express her passion to BYJ. I was so delighted to meet someone who shared the same love, so we sat down and started to talk about the man ... Could not remove this dream from my thought for the whole day, wondering who this lady could be? She does not look like anyone I know of in my real daily life. I take this as a blessing that some of our gals here are thinking about me. :-) Thank you Thank you Thank you for coming into my dream! I love you!
Now here is Jaime's Manet V. Thank you Jaime for pouring so much love, energy, time into this Manet Series. I know you intended to finish this series. But I hope you will share with us more. Maybe another artist, huh? Oh no! More work! Am not pushing and twisting arms, just tossing out wishes :-) Personally I've learned a lot, feeling more cultured and educated. What is so good about this bae-land? Entertaining, inspiring and Educational!
===================================================================
Dear sisters …… as promised, I will wrap up my Manet series with this last chapter. When Mrs. A inquired about the 'bar girl' painting in her previous comment, she inspired this Mrs. Z, "what a remarkable painting to appreciate upon closing this series!". So, hope you'll enjoy …….
Manet's last masterpiece 'Bar at the Folies-Bergere' was completed in 1882, injecting his eloquent and heartfelt effort to make a grand final statement ……
The setting is depicted in the chic music hall Folies-Bergere, where avante-garde Parisians socialized and danced under its faded red and dirty gold decor. Our visual focus lands on the serveuse (waitress of drinks) and an unrealistically large mirror reflection of the bustling scene of patrons and neglected live entertainment (notice the acrobat's green socks on top left). The artist caught the serveuse's weariness, boredom and her impassive gaze oblivious to the world, enduring the unpleasant reality of solicitation from a male customer (on far right). Manet lent our heroine immense facial dignity and an air of aloofness conveying a message of self-containment. He expressed anonymity and loneliness inherent in modern life, not responding to the glitter and glamour of bourgeois society.
An honorary mention is Manet coalesced his love for still life with portrait here creating perfect equality and harmony, can you imagine the visual pleasure of 'Bar at the Folies-Bergere' without its sparkling array of bottles and fruit dish?
I initiated this series with a pure admiration for Manet's charming illustrative letters and desire to share that tranquil love for Yong Joon with my dear Bae sisters. Little did I anticipate it to be a mini-tribute to the artist's innovative thoughts, elegant style and even his uncompromising life. Manet's challenge to old clichés prompted him to carve out a new art movement away from centuries-old traditional practice. Like our great king who led the Hallyu Wave into Asia with his charismatic appearance and subtle acting, has carved out a new cultural phenomenon of Asian Wave across world continents. So many tender hearts are awakened with so much dormant emotions erupted, we never seem to have enough sumptuous words, heavenly artworks and melodious music to glorify our Yong Joon's respectable being and outstanding accomplishment. There was no one like him before, and never will be after! Please allow me to attempt one last time with Manet …….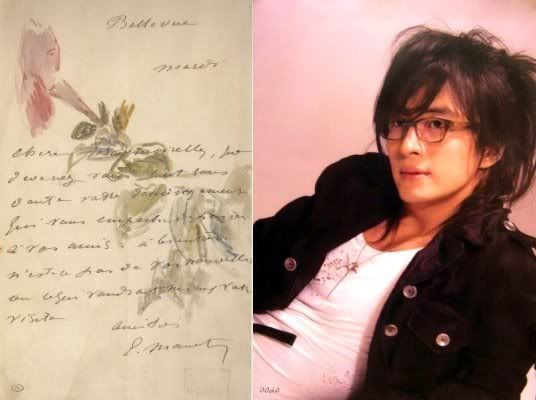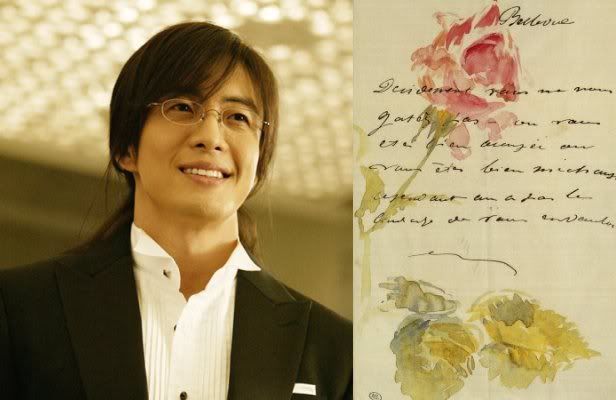 Thank you for patiently reading the entire series and sharing your valuable thoughts with me. Your comments are so precious to me that I read them over and over again like a beautiful poem. Let's hope Yong Joon be safe, healthy and happy always!
Acknowledgements :
1. Impressionism, Belinda Thomson and Michael Howard, Bison Books Corp. 1988
2. Impressionism Art, Leisure & Parisian Society, Robert L.Herbert, Yale University Press, New Haven & London. 1988
3. Impressionism and Post-Impressionism, James N. Wood, The Art Institute of Chicago. 2000
4. Manet The Still-Life Paintings, George Mauner, The American Federation of Arts. 2000
5. The purple picture in the 4th artwork comes from sister 'flower', please let me know if it's fine with you, thanks.